Here you can find important and useful information for your preparations for Interpets.
*The information below is of 2019, and to be updated to 2020 in June 2019.
Standard booth (Raw space only)

1 booth = 9sqm (W3m x D3m)     JPY 370,000     (tax excluded)
-The space is provided without any booth fittings such as octanorm wall panel system, sign, needle punch carpet and power supply.
-All exhibitors are required to arrange booth fittings, at least the compulsory fittings indicated in the exhibitor manual issued in November 2017, at their own expense.
-Rental stand is available for your easy participation. Please refer to the details on stand rental

Booth allocation
Booth location will be offered on a first-come, first-served basis. Please make an early application.
Large scaled exhibit discount for standard booth
Over 6 booths (54sqm)  5% OFF
Over 9 booths (81sqm)  6% OFF
Over 12 booths (108sqm)  7% OFF
*multiple use of discounts is not allowed.

Option available for standard booth
Should you wish to have corner booth(s), please contact the organiser.

*Applying for 1 - 2 booth(s) and request have two sides open, an additional fee of JPY 40,000 (tax excluded) will apply.
*Applying for more than 3 booths and request to have more than one side open, an additional fee will not apply.
*The open side of your booth is determined by the organiser and subject to availability in each hall. For those offered this optional arrangement will receive an invoice after booth allocation. Additional payment, when applies, is required by the date on the invoice.

Mini packaged booth (booth fittings included)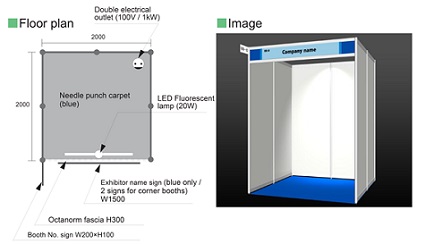 Appeal your participation with the minimum expense!
"Mini packaged booth"- including both space and booth equipment fees will enable you to participate in the fair in an efficient and smooth way.



Mini packaged booth includes:

-Needle punch carpet (Blue)
-Octanorm wall panel system (H2.7m)
-Octanorm fasia
-Exhibitor name sign (company name, booth number) per open side (blue color only)
-Booth No. sign
-LED Fluorescent lamp (20W)
-Double electrical outlet (100V / 1kW)
-Power supply installation, electricity fee (up to 1kW)
-Booth construction and dismantling

*It is not allowed to change the booth design nor sign color.
*There is no wall on the aisle side of the corner booth.
*When the adjoining booth is also mini packaged booth, the octanorm wall panel is to be shared.


A smart arrangement for standard booth (Optional)

For standard booths, the space is provided without any booth fitting. All exhibitors are required to arrange booth fitting at their own expense.
An economical and convenient package - rental stand is available upon request.

MORE INFORMATION
Here you will find the important schedule for your participation.

April 2018               Start application acceptance
31 August 2018       Application deadline
*Application will be closed before the deadline when the available booths are fully booked.

Please submit in an application:
- application form
- Company profile (only for first-time exhibitors)
- Product catalogue / pictures

November 2018     Booth allocation
                                 Receive exhibitor manual
                                 Start preparation

26 – 27 March 2019     Move-in / stand construction
28 – 31 March 2019      Fair opens
*open to the public on 29 - 31  March 

Tips for a successful show
Do you realise what important purpose of participating in fairs is? If so, do you share the news with your colleagues?

The unique feature of trade fairs is they allow participants to collect large number of prospects from all over the world, in one location, over a short period of time. This allows you to conduct business and marketing activities intensively and effectively!

FAQ

-What is the trade fair ?
1. Trade fair is one of the most cost-effective marketing tools available. It is good venues for meeting many potential buyers, distributors, retailers and customers for your business all at once.
2. There are greater opportunities to enhance brand visibility, promote new and existing products, generate leads, and drive incremental sales. Exhibiting also enables you to stay on top of the latest industry trends, gain competitor insights, make key industry contacts, and further solidify relationships with current customers.
3. Taking part in trade fair is a great way to get your business known to the target markets efficiently.

-Tell us about what we should do before the fair !
1. Set a simple and clear target to share with team members.
2. Plan a visitor-friendly booth design to attract more business and customers.
3. Send invitations to prospects and make the most use of promotional tools provided by the organiser!
4. Announce your attendance via websites and e-mail using digital tools (fair logo, e-card, and more.)
5. Prepare giveaway samples, catalogues and price lists.
6. Place advertisement in the official fair guide and website that will be seen by over 30,000 visitors before the fair.
7. PR activities for the press/journalists.

-What is the key point to reach the best results during the fair ?
1. Have experienced staff at your booth. Having decision makers at the booth is very effective.
2. Prepare an interpreter for the booths to ensure smooth communication.
3. Provide exclusive offers that are only available at the fair ground. This technique is well-received by buyers.
4. Hold events, presentations and small talk shows, to create more opportunities to communicate with visitors.

- Are there anything we should do after the fair ?
Immediately follow up with customers. This is the key to success. Send the thank you letters, brochures and other materials.
Join our advertising and sponsorship package !

Effective promotional tools increase the attraction of your target audience.
Plan ahead to take advantage of participating at the trade fair!

MORE INFORMATION
Warning – unofficial exhibitor directories