A smart arrangement for standard booth (Optional)

For standard booths, the space is provided without any booth fitting. All exhibitors are required to arrange booth fitting at their own expense.
An economical and convenient package - rental stand is available upon request.

1 booth (9 sqm)      JPY 94,500
2 booths (18 sqm)  JPY 140,500
3 booths (27 sqm) JPY 180,500
4 booths (36 sqm) JPY 230,500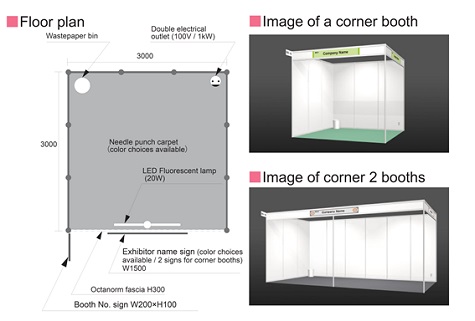 -Needle punch carpet (colour choices available)
-Octanorm wall panel system (H2.7m)
-Octanorm fascia
-Exhibitor name sign (company name, booth number) per open side (colour choices available)
-Booth No. sign
-LED Fluorescent lamp (20W)
-Double electrical outlet (100V / 1kW)
-Power supply instllation, electricity fee (up to 1kW)
-Wastepaper bin
-Booth cleaning (27 - 30 March)
-Booth construction and dismantling

*Participation fee for exhibit will be charged separately to the above fee that covers the booth fittings only.
*There is no wall on the aisle side of the corner booth.
*When an adjoining booth is a rental stand, octanorm wall panel is to be shared.
*Additional items and custom-made stand can be ordered upon request.

In the case of 1 standard booth with rental stand
*all prices tax excluded

Participation fee   JPY 370,000
Rental stand fee   JPY 94,500
Total  JPY 464,500
For more details, please download here!